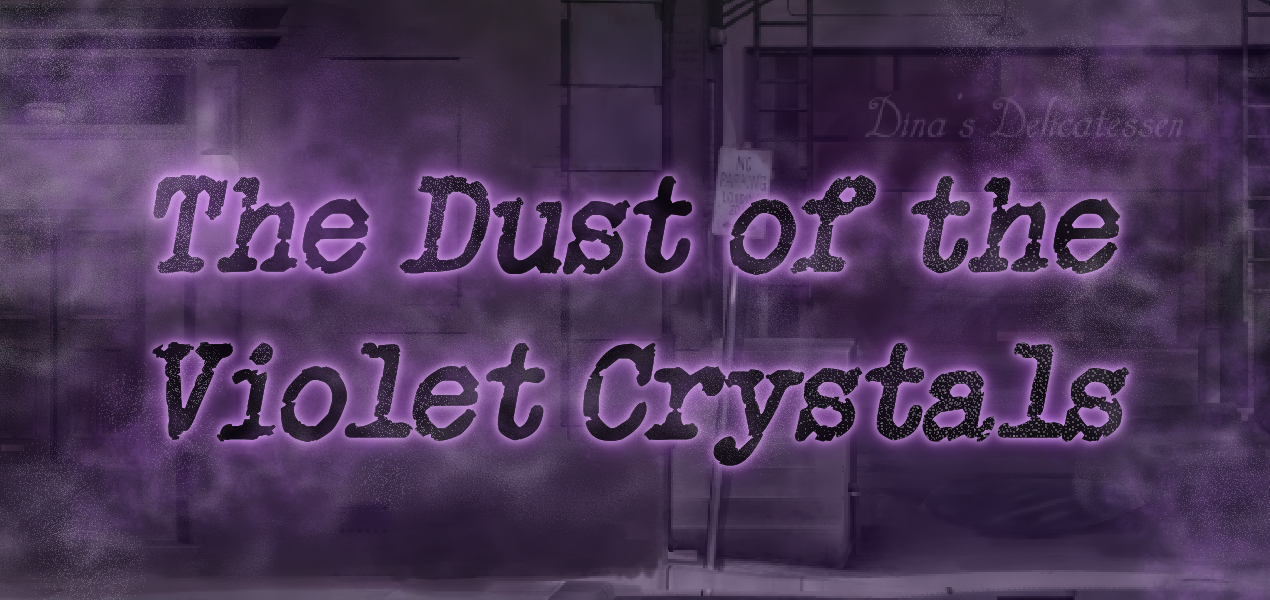 The Dust of the Violet Crystals
Note: This embed has some reduced quality and features in an attempt to smooth gameplay. You may still experience music glitches and lag. If so, please try muting sound. If you still have issues, please consider downloading the full version. It's still free!
By clicking 'run game' above or by downloading and playing any other available formats of The Dust of the Violet Crystals you are agreeing to the EULA available to read in full at : https://www.corvaena.com/eula/

The Story:
After a flesh-eating dust blows through your small town you are left trying to survive alone against hordes of Listless humans. Starved for social interaction you find yourself questioning your sanity when a voice speaks directly into your mind begging for your help.

Game Features:
Navigate an apocalyptic world full of Listless humans while managing your health and toxin levels. Collect items and choose travel locations that you feel will most aid in your survival. Can you choose correctly and survive until you solve the mystery of the anonymous voice? Or will you fail and drag others down with you when you die?
Multiple endings, and almost every choice will have some impact, sometimes immediately. Good luck!
Excerpt:
NARRATOR
Huddling in the corner of our modest shop I can see them.
I can see them through the glass, weaving to and fro as if only held upright by the merest of threads invisibly dangling from the hazy sky.
The light that had previously consumed their retinas has faded to a dull glow.
For hours I have hovered inside my shop. Waiting. Watching.
My wife and I had chosen the reflective lettering on the glass of our shop in an attempt to catch the eyes of passerby to peruse our wares.
I do not understand why, but it seems to confuse them.
Almost immediately on turning to the glass the light in their eyes will fade, and they will either stand idly, waiting, or join the ranks of the others.
A sudden scream shatters my thoughts and I slowly stand and walk toward the glass pane.
A lone woman runs screaming through the street.

YOU (horrified)
No…No!

NARRATOR
As soon as I speak one of the Listless turns toward the window and I press myself against the wall in terror.
It weaves to and fro in indecisive consternation, its ears aware of sound but the mirrored letters confusing its vision.
After a few moments it turns back towards the woman.
By the time I work up enough nerve to return to the glass and try to help, it is too late.
But the Listless aren't even the worst part.
The dust.
The dust is always worse.
| | |
| --- | --- |
| Updated | 2 days ago |
| Status | Released |
| Platforms | Windows, macOS, Linux, Android, HTML5 |
| Rating | |
| Author | Corvaena |
| Genre | Visual Novel |
| Made with | Ren'Py, Clip Studio Paint |
| Tags | Horror, LGBT, Meaningful Choices, Multiple Endings, Psychological Horror, Zombies |
| Average session | About a half-hour |
| Languages | English |
| Inputs | Keyboard, Mouse |
Download
Click download now to get access to the following files:
com.corvaena.android-100030001-arm64-v8a-release.apk
195 MB
TheDustoftheVioletCrystals-3.0.1-mac.zip
188 MB
TheDustoftheVioletCrystals-3.0.1-pc.zip
205 MB
Comments
Log in with itch.io to leave a comment.
I really enjoyed this! It had that sci-fi twist that echoed of Telvoikai, which I really loved!
Thank you, Rozozzy! The snippet at the end actually is canonically a character from that exact story, so I am extra happy someone noticed. 😄 I hope to remake Telvoikai as a standalone eventually, too.
Ahh!! That would be amazing!! I look forward to your upcoming projects. They're always a blast to read. <3
Liked this game a lot. I keep trying for different endings and get the same one, but I never keep track of all the choices.
Thank you for playing and taking the time to let me know! Different endings depend heavily on ** SEMI-SPOILER ** what your friends think of you, which items you do or do not get (ex: space blanket?), and whether or not you decide to break the canister at the end. (Your friend will give her opinion on the subject and in some branches you do not understand her.) Without knowing what ending you have it is hard to say which will get you a different one- but if you experiment with what I list here it should help :)
This was so much fun! My mind is completely blown! The story was AWESOME and the weight of the choices were what kept me playing this game over and over to try out various endings. The pathway to get the "habitable ending" was just absolutely brilliant. I really really really really hope you continue making games like this. Keep up the awesome work!
(I don't think this should be tagged as a horror type game but I'm glad it isn't otherwise I'd shit myself and never see the end of this masterpiece.)
Thank you so much! I am working on my next game and hope to have a sample chapter in the next month or two. If you'd like to see WIPs and concept art for it I post a lot on Instagram (Corvaena).
As a fan of horror movies and games I do agree Dust isn't really true horror but with what the violet dust does and the way the story is laid out I wasn't sure what else to label it as. Quite a few of my stories are a hodgepodge of sorts, but all of them end up having a heavy dose of fantasy/epic fantasy by the end.
Thank you again for playing and letting me know you enjoyed it!
Fun and interesting game. Little rough around the edges and sometimes too obvious what choices do what, but overall great experience and I like mystical atmosphere.
Thank you very much! This game was my first attempt and intended as a prototype so I am not surprised it feels a bit 'rough'. I really appreciate you taking the time to let me know your thoughts, and if you are ever inspired to share more detailed feedback feel free to reach out to me on Instagram or Twitter (@Corvaena). Thank you for playing!